Band of the Month
underworld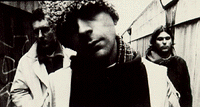 Underworld is: Karl Hyde, Rick Smith, Darren Emerson


Underworld are the true mighty superstars of the new dance explosion. Their debut album dubnobasswithmyheadman brought every cathartic and propulsive aspect of rock onto the dance floor and every great dance beat and groove into complex little pop records, trademarked with the instantly identifiable underworld sound. They are partly responsible for blowing UK dance music into the mainstream, partly responsible for legions of imitators and pretenders, and totally responsible for fucking the heads of the hundreds of thousands who hear it.

The follow up to dubnobass..., second toughest in the infants is a perverse and glorious collection of insane ramblings stretched over huge godzilla-style breakbeats and techno pulses, a mash up of thumping synthetic weirdness nestling alongside dreamy acoustic strumming. It's moody, difficult, complex, crazy, daredevil of a record. It has the sound of a timeless classic. A giant sleazy listening masterpiece.